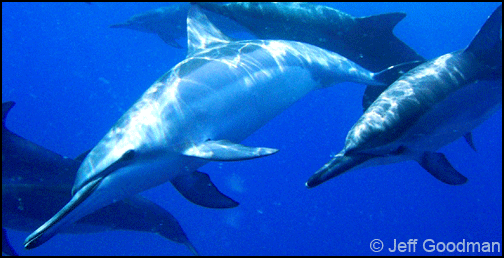 Come play with us and experience a Magical Retreat
in Playful Union with free swimming Dolphins
in Hawaii!
THE ULTIMATE RETREAT…. An incredible week to delight in all of your senses. This retreat includes shared insights, understanding, honouring and learning how to respectfully interact with wild dolphins, snorkeling, workshop sessions, oceanfront accommodation, daily gourmet delicious meals, live music and entertainment, day trips to Volcano and sacred sites, a Boat Excursion and so much more!
Join HANNELORE with guest artists in the FUN, LAUGHTER and CELEBRATION as we embark on a magical journey.
This Retreat is designed to affect positive changes in your life as you connect to your heart and celebrate your Sacred Self. We promise your spirit will be nourished.
Those who respectfully swim with the Dolphins are graced with deeply moving experiences and heightened states of consciousness to pure bliss.

Dolphins are magnificent, highly conscious and intelligent beings that have the ability to induce humans into a higher vibration reminding us to connect with our sense of joy, humour and playfulness.
A Life-changing Opportunity to Experience
Inspirational messages & insights
Great Local Entertainers
Guided Meditations
Visits to Sacred sites, swimming, snorkeling, kayaking and more.
LOCAL GUEST SPEAKER who will share Dolphin stories and valuable information on etiquette and how to connect with their playful energy
The Gift of a Lifetime…swimming with one of Nature's most magical creatures
Retreat for Couples and Singles
This retreat is held in a magnificent oceanfront guest home, nestled on the point of a beautiful aqua green bay, located on the Big Island of Hawaii. Start the day with amazing sunrises and step onto the Lanai as you watch the dolphins come into the bay. Snorkel in crystalline waters with playful spinner dolphins, sea turtles, and a rainbow of tropical reef fish, and/or kayak along the coast. Take in breathtaking sunsets; watch the Humpback Whales and enjoy the hot tub located at the oceans edge.
.
A perfect setting to create a fulfilling Sacred Relationship with your partner! Celebrate your commitment to each other as you surrender to LOVE.
This retreat is designed to offer you techniques to enhance create and/or recreate the spark of love, joy, communication and intimacy in your relationship.
Your one week retreat will include a boat trip, day trips, daily gourmet organic meals, workshop sessions, private oceanfront accommodation, guest speakers, live entertainment, snorkeling and wild dolphin encounters and so much more!
Each couple will enjoy the privacy of their own beautiful room in an open air Balinese style Oceanfront home. This setting allows the soul to merge with the spirit. Enjoy open air, comfortable and enchanting living on the ocean. Relax and read in Hammocks beneath the rustling palms, snorkel in tropical waters with playful dolphins and sea turtles and experience the wonders the ocean has to offer. View magnificent humpback whales off the lanai and in the evening allow the sounds of the sea to gently lull you to sleep.
Deepen your Experience

What would be more magical, in a tropical Paradise setting, than to renew your vows! And/or experience a special Hawaiian ceremony to honor and enhance the depth of the commitment you have for each other and your relationship?

Hannelore is an Ordained Interfaith Minister and would be happy to discuss this prior to the retreat with you. She is registered as a minister in New York City and has performed many wedding ceremonies, baptisms, and numerous other ceremonies.
On the Big Island of Hawaii and on the Kona Coast. Hawaii speaks for herself as her beauty, warmth, tropical smells, sounds, tastes and wildlife conspire to invite us into the magical presence of life. These retreats are held in a magnificent oceanfront guest home nestled on the point of a beautiful aqua green bay and at a spectacular open air Balinese style Oceanfront resort. Your joyful dolphin encounter awaits you.
ACCOMMODATION is shared and semi-private and private rooms and are based on order of registration. Private rooms available for couples at the singles and couples retreat and all couples have private rooms at the COUPLES only retreat.